Polar Plunging in the Swedish South
Instead of island-hopping in the Caribbean this winter, why not polar plunge your way along the southwest coast of Sweden? Here's a selection of region's most stunning open-air bath houses.
Summer and winter alike, Swedes and Danes flock to the beautiful open-air bath houses dotting the southern coastline of Sweden. These places are havens of relaxation where swimmers indulge in invigorating open-air dips between sauna sessions.
While you'll find places that offer cold dipping across Scandinavia, they are often housed in hotel and spa facilities and can be quite costly. It is, however, along the southwestern coast of Sweden where one finds the highest density of kallbadhus, many of which are historic, affordable (around $10 for a day pass), and open year-round to the public. 
Usually located on the sea, the first fully-fledged cold bath houses in Sweden began to emerge in the late 1800s. Cold baths had long been thought to have "healing" abilities and these kallbadhus quickly became popular. 
There is no need to pack swim wear as nudity is encouraged, and, in some places, mandatory. Kallbadhus have one area dedicated to men and one to women. Most facilities rent out towels for a dollar or two making it easy for visitors to drop in at the spur of the moment. There is often a café or restaurant to accommodate those wishing to spend the whole day. Here are a few towns and cities in the Swedish south particularly well-suited for winter swimming: 
Karlshamn
Karlshamns Kallbadhus, on the east coast, is a 2015, modernist addition to the mainly traditional bath houses of the south. Designed by White Architects, it has been likened to a "flying saucer". It's as Scandinavian as it gets with angular, perfectly balanced lines. It sits on stilts and has floor to ceiling windows that optimise the spectacular views of this idyllic spot. Open most days of the year, there are separate areas for men and women.
Malmö
There are several cold bath houses on the southern shores near Malmö, but the most famous one – Ribersborgs Kallbadhus – popularly known as Ribban, is located in the heart of the city. Inaugurated in 1898, Ribban in Malmö is one of the oldest and best-preserved cold bath houses still in operation. It's built in the exotic style typical of turn-of-the century baths, complete with a 170 meter long dock.
The bath house is open year-round and has separate areas for men and women. 
The first Monday of every month is Queer Kallis, primarily aimed at transgender and non-binary visitors. On those days, both the women's and men's sections are open to all, leaving visitors free to choose where they prefer to swim and sauna.
Bjärred
The cold bath Bjerreds Saltsjöbad is one of Skåne's most beautiful kallbadhus, inaugurated in 1901. That same year a railroad connection to Lund was established and on Sundays, as many as 5,000 people would take the train to spend the day on the coast in Bjärred. Others arrived from Malmö by boat to bathe and enjoy the surrounding nature. In those days, Bjärred, along with Mölle and Falsterbo, were among the most famous Swedish bathing destinations. The original building is long gone, but the ritual of kallbad remains. 
The current kallbadhus, built in 2004, is of modern, Scandinavian design. It also features the longest dock in Sweden; 574 meters straight out into Öresund (600 meters including the distance to the women's sauna).
Helsingborg
Helsingborg has a long tradition of kallbadhus dating back 150 years. Still to this day there are several options within close proximity of one another.
Kallbadhuset Kallis, established in 1865, is the oldest and most popular, located in the heart of the city. Views are stunning with both the sauna and dock overlooking Danish Kronborg Castle (home to Shakespeare's Hamlet) in Helsingør (Elsinore). Cold dipping in Öresund, the strait which forms the Danish–Swedish border, is a wonderful experience, especially at this, the narrowest point of the strait where the Danish mainland is a mere 3.5 kilometers away.
For other nearby kallbadhus you can walk 15-minutes north along the beach to Pålsjöbaden, or drive 15 minutes south to Rååbaden, located in the quaint, old fishing village of Råå.
Båstad
In the 1800s, doctors prescribed timed health baths in Båstad for the ailing. Horses with carriages would pull visitors into the water for a dip in the ocean. A proper kallbadhus was first built on the site in 1848. It was destroyed and replaced a few times, most recently in 2009. Today, it houses a sauna, hot pool, and fireplace where visitors can heat up in between cold dips.
Varberg
Built on stilts in 1903, Kallbadhuset Varberg is a Swedish icon. Set within an oriental-style building, complete with decorative domes, this west coast gem's history can be traced back to the 1820s when a floating pool was built to allow for cold dips in the ocean. From the sauna you look out at Kattegat, the straight between Denmark and Sweden.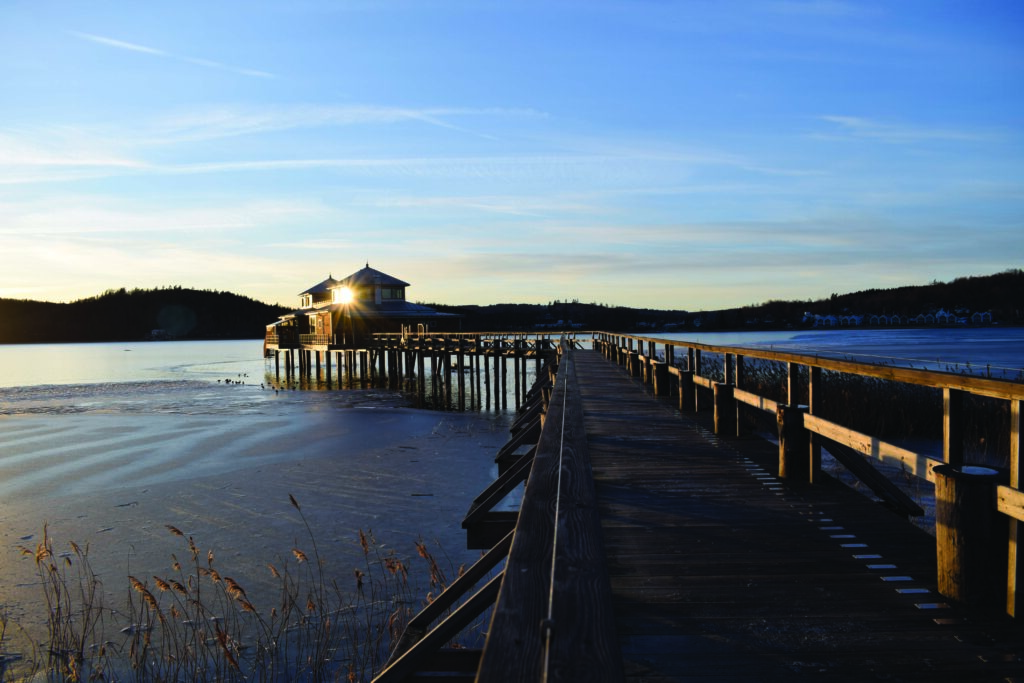 Ulricehamn
A 90-minute car ride inland from Gothenburg, sits Kallbadhuset Ulricehamn. Located on the shores of Lake Åsunden, it is an exception to the rule of oceanfront locations. The bath house in its current form opened its doors in 2008, but the town has housed kallbadhus since 1871.
By Kajsa Norman
Head photo: Per Pixel Peterson/imagebank.sweden.se