Dansbandsveckan in Malung
Every year, 82 dance bands, 3,000 camper vans and some 50,000 people descend on Malung, a small town in Dalarna with a mere 5,000 inhabitants. They come to celebrate the musical phenomenon known as Swedish dansbandsmusik. 
It is after 10 pm when we pull into Malung Campground. We pitch our tent, grateful for the infinite daylight of Swedish summer nights, and for the fact that we've remembered to pack earplugs. Across the water, on the other side of the Dal River, the music will continue to all night, every night, throughout Dansbandsveckan (The Dance Band Week). 
Dansbandsmusik dates back to the 1950s, when Swedish dance orchestras would tour the country. In summertime, they would play outdoors in Folkparker (People's Parks). In winter, they would play inside Folkets Hus (People's Houses). Enthusiasts gathered, not to watch the performances, but to dance the foxtrot and the bug. In the 1970s, these groups became known as dansbands, and their music style – a cheesy mix of schlager and country music – became known as dansbandsmusik. 
The popularity of Swedish dansband peaked in the 1970s when some 5,000 bands roamed the country – 800 of them full-time. Popular bands included Flamingokvintetten, Ingmar Nordströms, Thorleifs, Wizex, and Matz Bladhs. The most popular of them all was Vikingarna. Formed in 1958, Vikingarna would go on to sell more than 11 million records, placing them among the top-ten best-selling Swedish artists of all time.
"Would you like a varmkorv?" 
As we exit the tent our first morning two teenage boys, Pontus and Kasper, have pitched a tent next to ours. They must have arrived sometime during the night, but they already have their barbeque going and are offering hot dogs. 
Pontus and Kasper have driven all the way from Småland, having received gas money, campground fees, and dance tickets as their high school graduation present. 
"Do you know how to foxtrot?" I ask them. "Not at all," Pontus laughs. "Not yet, but we're here to learn. And have fun!" 
Dansbandsveckan celebrates its 35-year-anniversary this year, and while dansbandsmusik has typically been for the middle-aged and older, it has begun to attract a younger audience as well. Every year in late July, 82 dansbands from across the Nordics perform on six stages for dancers of all skill levels. While a few dancers are professionals, most are amateurs, and this year, many, like Pontus and Kasper, are truly beginners. 
Six hours of dance instruction is offered every day during the week. A lesson pass costs 120 SEK (about 12 $USD) and one can mix and match as one sees fit throughout the day. Tony Irving, famous as the chairman judge of the Swedish version of Let's Dance, runs a drop-in Dance Academy which teaches the bug, foxtrot, swing, and slow dance, while dance instructors Marie and P-A Sköld host courses in gammeldans next door. 
Gammeldans (literally "old dance") are dances such as waltz, schottis, polka, polska, hambo, and snoa that became popular in the late 1800s. These were the dances that the Nordic immigrants brought with them to the United States and Canada, and they are experiencing a revival in Sweden today.  
After learning to slow dance with Irving in the morning, for the afternoon we decide to switch to something more upbeat and enter the gammeldans tent. The many spins of snoa, schottis, and hambo leave us dizzy and sweating profusely, but it's a lot of fun. 
Come nighttime students return to the dancefloors eager to try their new moves.  A night pass is 350 SEK (35 $USD) per evening or 1900 SEK (190 $USD) for the week. To encourage the younger generation, it is free for kids under 12 and youth ages 12-17 receive steep discounts. This said, the vast majority of attendees are adults.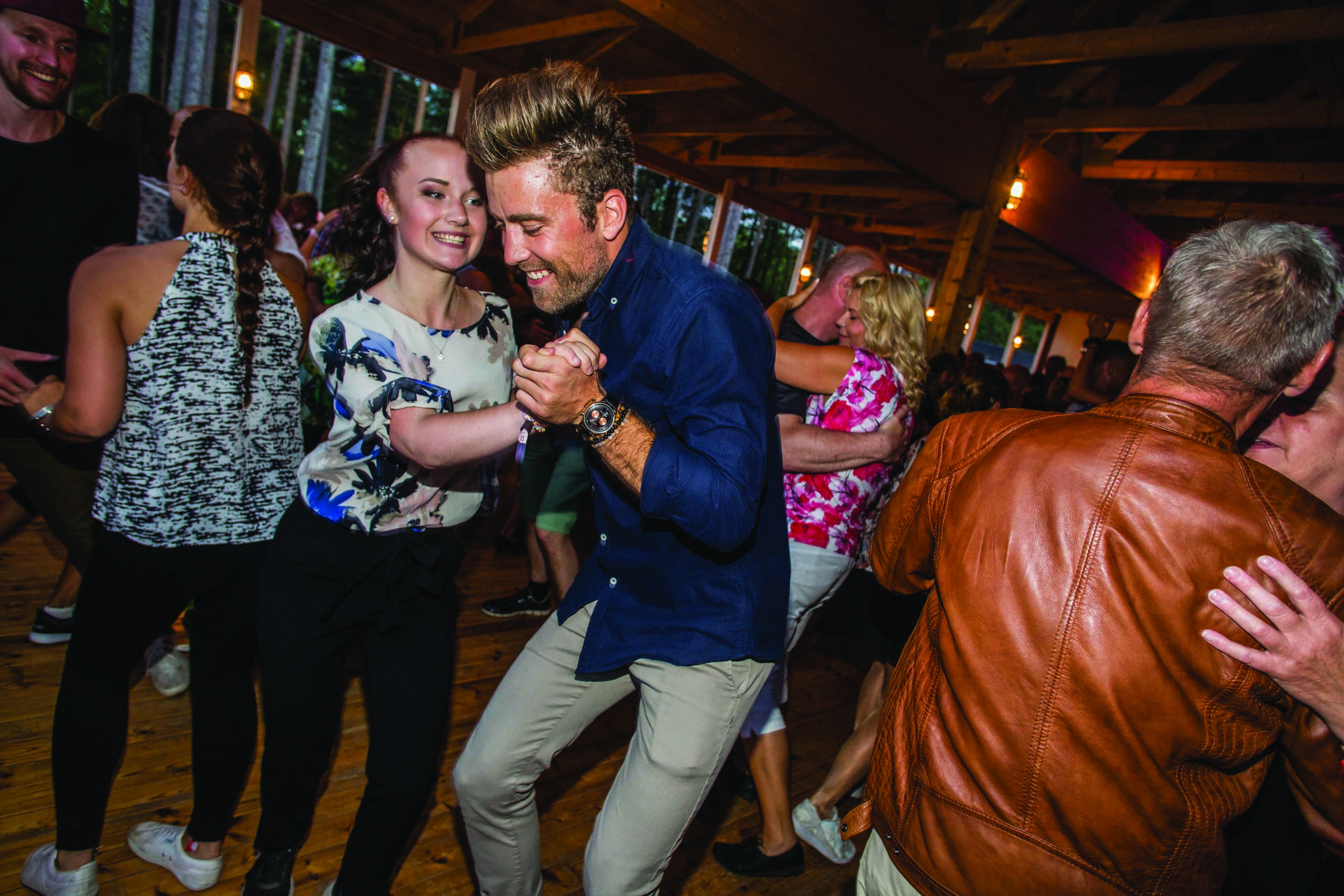 In the late 70s and 80s, disco music and pop groups like ABBA begun to dominate the music scene in Sweden and many feared that the era of the dansband was over. Many bands dissolved and those who remained would mainly play on the Finnish ferries or the odd city hotel. The disco era, however, didn't last forever. Towards the end of the 80s, disco music became less popular and by the 90s, the dansbands were back in style, much thanks to renewed media interest. 
2008 marked the launch of the TV show Dansbandskampen, in which up-and-coming dansbands would compete performing covers or originals. That year, dansband Thorleifs, and their album Förälskade (In Love), beat Metallica for #1 on the Swedish charts. The following year, Larz-Kristerz, who won Dansbandskampen 2008, knocked down Bruce Springsteen from first place. 
This year, Larz-Kristerz perform both in the fenced-off area at night and in Grönlandsparken in downtown Malung during the day. Access to Grönlandsparken is free and every day hosts five hours of scheduled entertainment on its main stage, followed by late-night music in the surrounding beer tents. Larz-Kristerz, who hail from Älvdalen, put on a fantastic show for the Dalarna theme. They perform their hit "Carina", as well as creative covers such as "Purple Rain," and a song in Dalarna's unique local dialect, Elfdalian. The members dress in the colorful, body-hugging, spandex costumes that were popular in the 70s. Then, as now, the glittering outfits were not primarily a fashion statement, but the consequence of Sweden's punitive tax legislation. To qualify as "work clothes," and hence be eligible for the much sough-after tax deduction, the costumes have to be "fantastical" – clearly unwearable offstage in normal, civilian settings. 
The following morning, a new neighbor has moved into our campsite. Tor is a 56-year-old Norwegian dansband enthusiast who has driven all the way from Oslo to attend the final weekend of the festival. Dansbandsmusik has also become popular in Norway. At first, it was mostly Swedish bands, but now Norwegian dansbands like Ole Ivars, Amunds, Scandinavia, and Trond Erics dominate the airwaves.
Tor is treated to hot dogs by Pontus and Kasper. As I look around, we now have fellow campers ranging in age from teenagers to 70+, although the latter tend to stay in camper vans instead of tents. For a country that typically divides social events by age, it has been refreshing to attend something so pan-generational. Unpretentious and relaxed – it's easy to see why it's so popular.